Poppy & Prairie Spa features G.M. Collin Paris skin care product line, which is dedicated to offering women and men of all ages an exclusive range of products from superior clinical treatments to the highest quality home care. We include a complete skin care consultation at the beginning of every facial to ensure the best result for your skin, as our skin is constantly changing due to environmental factors, age and lifestyle.
Oxygenating $130
​
Healing, balancing and hydrating. The skin becomes luminous, moisture-balanced and younger looking.
Hydrolifting $125
Provides intensive immediate hydration, lifts and firms the face and neck for a revitalized complexion.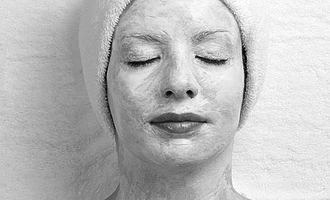 Sea C Spa $130
Energizes and stimulates cellular regeneration, providing lasting results on fine lines and wrinkles for more youthful skin.​​
Collagen Facial $135
Minimizes visible lines & wrinkles. Rejuvenates and tightens the skin for a more youthful, flawless appearance. Hydrates the skin for a plumber & more radiant complexion.
Customized Skin Care Therapy
​
While each of our professional clinical facials promote over all skin health, this treatment is built especially for you and your skin concerns. Weather it be a gentle exfoliation, intense exfoliation combing one of our clinical chemical peels, black head or white head extractions, milia extractions.

Advanced circulatory systems stimulation to promote winkle reduction or plumping or firming of your skins elastin and collagen.

We will take the perfect steps to ensure your skin leaves feeling restored and healed.
Algo Mask
$35.00
The Algo Mask lifts and firms and evens the complexion while reducing the signs of aging and fatigue.
Chemical Peel
$35.00
​
AHA's promote cell turnover creating improved texture, decreasing signs of aging and fatigue.